The Background to the NU-ERA Technology Suite
Inventors
Kevin Loughrey, of Non Volatile Technologies, Sydney, conceived this technology in collaboration with Ivan Curtis of Keyworks, Adelaide, and another engineer, Mick Evans, in the UK.
Investors.
A group of investors in Sydney then provided funds for the development of a prototype reader and the commercialisation of this technology. NuEra-ID Pty Ltd was formed for this purpose.
How it Happened
In late 2005, Lieutenant Colonel Kevin Loughrey was recalled into military service as the Maintenance Approval and Design Acceptance Authority for Land Command, a formation that comprehended 85% of the Australian Army's assets; including those involved in operations around the world.
This appointment required he become qualified as a lead auditor through the auspices of SAI Global in order that he could perform technical audits on military units. Because the appointment had been unoccupied for some period of time there were a large number of units to be audited.
During the course of these audits, he became aware of how little support military units had, in the form of computer systems and automatic data capture technology, to perform the mandatory checks required by regulations. Many of these activities involved such things as spotchecks and stocktakes to ensure equipment was available and ready for use. Data collection was a problem in that clerical manpower had been stripped from units in anticipation the centralised stores system, SDSS would significantly improve the productivity of units. This it did not!

System Objectives
The evolution of this idea was driven by a number of "imperatives". These were the creation of an inexhaustible source of unique identifiers and a supporting symbology that would have the following characteristics:
Represent a 128 bit binary identifier of which 96 bits would be the "payload".

96 bits of data provides an identifier range from 0 to 79,228,162,514,264,337,593,543,950,336. In other words, it would be possible to issue from the NuEra-ID registry one million, billion unique identifiers per annum for approximately 79,228,162,514,264 years (~79 thousand billion years). Provided these identifiers were efficiently allocated, this range provides for an inexhaustible supply of unique identifiers.

Be novel such that it could be patented.

This would allow the enforcement of a licence condition that the NU-ERA barcode may only be used when representing identifiers drawn from the NuEra-ID Global ID Registry.

Be highly resistant to dirt and damage.

This was achieved through large-scale redundancy. The redundant pattern also facilitated the identification of a barcode in the field of view of an image sensor by the image processing circuitry.


Provide a barcode with a low probability of erroneous read.

This would be achieved through using a 32 bit error code, further aided by encryption.

Consist only of dots.

Being so it could be printed or etched using inexpensive equipment. Having only dots is particularly suited to engraving items with the barcode using a simplified laser etching system.

The Registry
Purpose of Registry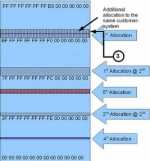 The registry provides a simple means for the orderly issue of unique identifiers to client-systems with minimal wastage.
Method of Operation.
The design, construction and operation of the registry is novel. A patent for this has been granted by the Australian Intellectual Property Office. Further patents are anticipated in the US, China, India and the EEU. The identifiers in the registry are based on 128 bits and range from 0 to 79,228,162,514,264,337,593,543,950,336 . Unlike other systems of allocation, such as GS1, the NuEra-ID system does not segment the identifier range into hierarchies, groups or categories. Doing so invariably results in large-scale wastage of identifiers in the range. Instead, the NuEra-ID identifier is simply used to access a record within a computer system and that record then provides access to any amount of information on the entity being identified.
Users of the NuEra-ID registry may have as many different systems as they wish. These individual systems are referred to as being "client-systems". The identifier allocation for a client-system begins from the middle of the largest available remaining space in the registry. If a client-system requires more identifiers at a later date, these are provided from the point where the last identifier allocated to that client-system was made.