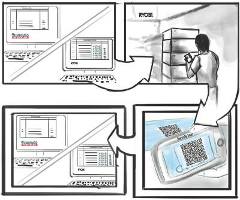 Capturing critical production information
Articles on a production line may receive a unique ID at any convenient stage in the production process. For example, in the case of complex equipment, made up of a number of assemblies, sub-assemblies and components, those critical to the successful operation of the item, could be indelibly marked for the purposes of tracking their progress through a production line. Should a failure occur, it becomes possible to identify the machine or operator or any number of other factors as being the cause of the lapse in quality. It would also be possible to provide on-line to customers the out-inspection details of any item they are purchasing or have purchased. An example of the sort of data to be captured is as follows:
Logged @ 03.09.2012-1845.13hrs
Production shift: T2
Operator: J. SMITH 02468
Plastic Injection Moulding Machine: 0f0a06239f08c0a84ed4ab33ce9d19a7 (NuEra-ID ID for the machine. All machines, workbenches, shelves, trolleys, etc could be assigned unique IDs, thereby enabling the location of every item placed on them to be tracked.)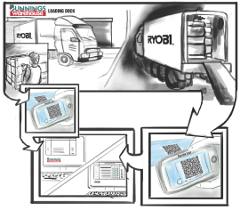 Capturing critical warehousing & handling and transportation information
Having each article individually marked enables precise tracking during warehousing. Doing so provides labour saving information regarding where the item is located in the warehouse, who handled it and when. Items stored in boxes are listed on the database as belonging to a box, itself marked with a Unique ID. This provides for the automatic and dynamic accounting of stock, thereby reducing pilfering over the entire supply chain and the need for spotchecks and stocktakes:
In this example:
Items are scanned as they are loaded onto the truck.
The load-list is checked against the customer order to ensure they match and then is sent electronically to the customer.
Scanning at the loading dock, changes the status of the items on the local dispatching stores system from "GOODS ON TRUCK" and on the transportation system to "GOODS RECEIVED".