The following is a scanned image of a submission by Capt P.A. Cullinen, K Troop Commander, SASR recommending assessment of the Loughrey rifles, 2 Aug 1975 For the convenience of the reader (and for the benefit of search engines) a typed version is also provided:
3 SAS Sqn
Campbell Barracks
SWANBOURNE WA 6010

2 Aug 75
THE 7.62mm KAL 2 SELF LOADING RIFLE
GENERAL INFORMATION
General
1. In 1970, Capt Kevin Loughrey whilst a cadet at RMC Duntroon designed and built a 7.62mm weapon based on the L1A1 7.62mm SLR. The weapon designated KAL 1 had many advantages on the L1A1. A second prototype, the KAL 2 (photo on folder cover) was an improvement on the KAL 1. A few of the characteristics are as follows:
Serial
CHARACTERISTICS
7.62mm L1A1 SLR
7.62mm KAL 2
a
Overall length
45"
b
Length of barrel
21"
c
Effective range
300 m
d
Balance
unbalanced unless steadying
hand on forestock
Balanced when held with
the firing hand so the
steadying hand may be
used tp direct troops.etc
e
Close quarter
fighting
Unsuitable
Suitable
f
Accuracy
Less accurate than KAL 2
More accurate than L1A1
due to its stability
g
Suitability for
specialist roles
veh mounted
parachuting
climbing
guerilla warfare
water operations
patrolling
Less suitable than KAL 2
"
"
"
"
"
"
"
More suitable than L1A1
"
"
"
"
"
"
"
2. The KAL2 is presently at the Infantry Centre Singleton and could be sent over to SASR for trials. Capt Loughrey has told me to contact Capt Thompson at the Infantry Centre and the weapon will be sent across to SASR.
3/ The weapon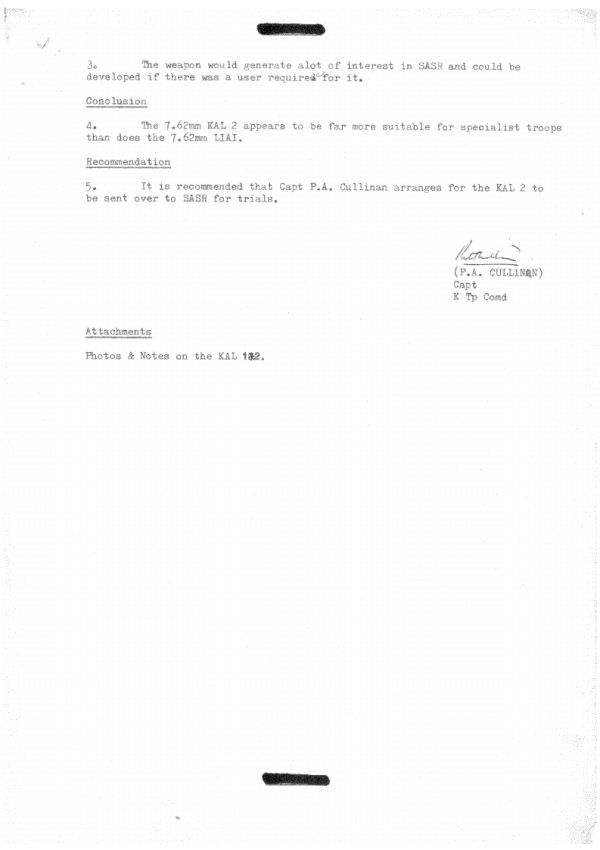 3. The weapon would generate a lot of interest in SASR and could be developed if there was a user requirement for it.

Conclusion

4. The 7.62mm KAL 2 appears to be far more suitable for specialist troops that does the 7.62mm L1A1.

Recommendation

4. It is recommended that Capt P.A. Cullinan arranges for the KAL 2 to be sent over to SASR for trails.






Original signed by
(P.A. CULLINAN)
Capt
K Tp Comd







Attachments
Photos & Notes on the KAL 1&2